(1b) 2022 Summer ALL NEW 15u Division - Hockey · Co-Ed
Limited Spots
MonTue
Wed
ThuFriSatSun
6:30pm to 8:30pm
Roller Hockey
Team Fees

Free
Individual Fees

Free
We are taking the year off from All Ice Camps! Our instructors are tied up this summer BUT we did partner with the WNY Roller Hockey League for 2022!
We suggest anyone that wants some extra hockey skills time join the league!
You can register for it on this site!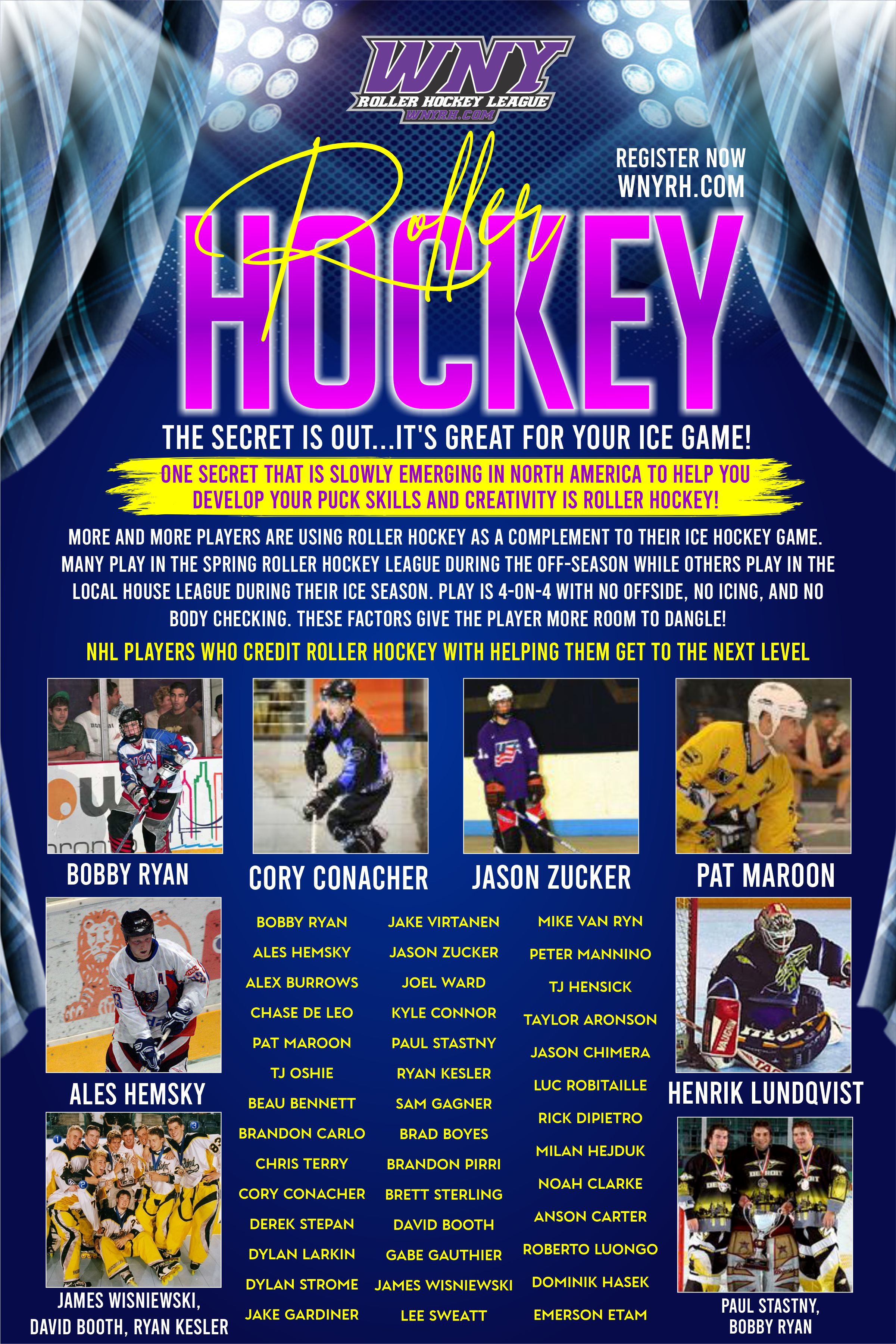 ROLLER HOCKEY: THE SECRET IS OUT...
ITS GREAT FOR YOUR ICE GAME!
With so little practice time spent on individual creativity and a lack of frozen ponds where the kids can play for hours on end, the local hockey player is left
without much opportunity to improve their individual creativity on the ice.
One secret that is slowly emerging in North America to help you develop your puck skills and creativity is ROLLER HOCKEY!
More and more players are using roller hockey as a complement to their ice hockey game. Many play in the spring roller hockey league during the
off-season while others play in the local house league during their ice season. Play is 4-on-4 with no offside, no icing, and no body checking.
These factors give the player more room to dangle!
The rules and style of play for roller hockey are conducive to skill development and confidence with the puck. There are no blue or red lines to restrict player
movement on the surface, thereby providing the player with much more open space. In addition, the 4-on-4 nature of the game further opens up the rink allowing
players extra time with the puck on their stick. Body checking is not allowed which allows the player time to make a good decision with the puck or try a move
that he may not have tried otherwise for fear of getting crushed.
These factors all give players more time to get open, more opportunities to handle the puck, better decision making when stick handling and extra room to skate
with the puck. Creativity and confidence are allowed to develop in a fun and entertaining forum.
A players vision improves with the open space. They can now see more of the rink and are able to see plays develop that they may not have seen before.
When heading back to the ice, the player is now ready to handle the puck and make good decisions that he wasnt able to make before.
In addition to the rules of the game creating an atmosphere that promotes skill development, the roller hockey game is a possession game, very similar to
basketball. If you've got the puck - the other team cant score. Further, if your team uses a controlled attack you can catch the opposition out of position
and find yourself with an excellent scoring chance.
This style of play helps develop a players stick handling and passing skills while developing a players confidence to make a smart play with the puck.
NHL Players Who Credit Roller Hockey With Helping Them Get To The Next Level
BOBBY RYAN
ALES HEMSKY
ALEX BURROWS
CHASE DE LEO
PAT MAROON
TJ OSHIE
BEAU BENNETT
BRANDON CARLO
CHRIS TERRY
CORY CONACHER
DEREK STEPAN
DYLAN LARKIN
DYLAN STROME
JAKE GARDINER
JAKE VIRTANEN
JASON ZUCKER
JOEL WARD
KYLE CONNOR
PAUL STASTNY
RYAN KESLER
SAM GAGNER
BRAD BOYES
BRANDON PIRRI
BRETT STERLING
DAVID BOOTH
GABE GAUTHIER
JAMES WISNIEWSKI
LEE SWEATT
MIKE VAN RYN
PETER MANNINO
TJ HENSICK
TAYLOR ARONSON
JASON CHIMERA
LUC ROBITAILLE
RICK DIPIETRO
MILAN HEJDUK
NOAH CLARKE
ANSON CARTER
ROBERTO LUONGO
DOMINIK HASEK
EMERSON ETAM